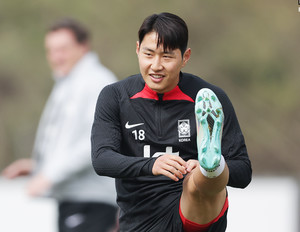 Son Joon-ho in crisis of player life…Klinsmann "I hope you'll be together in September"
Son Joon-ho, a member of the national soccer team, is under arrest by the Chinese authorities.
There is also a sense of crisis over whether he can continue his career if the investigation is prolonged, and for now, Klinsmann is still waiting for Son Joon-ho.
National midfielder Son Joon-ho, who is on the verge of judicial action as Chinese public security authorities continue to investigate the arrest following criminal detention.

His career was also at a critical juncture due to the observation that he could be in custody for months or more than a year until his first trial.

We dispatched staff to ChinaThe Korea Football Association, which returned empty-handed, is keeping a close eye on the related situation.

However, an official from the association said that it is difficult to clearly know the current situation through diplomatic channels such as the consulate, and that it is frustrating.

Coach Klinsmann also expressed his wish to be with Son Joon-ho on his away trip to Wales in September, although there is nothing he can do right now for Son Joon-ho.

"There's nothing we can do right now. Pray for Son Joon-ho and hope the situation ends soon. I hope he can join us in September."

National team captain Son Heung-min also expressed regret.

<Son Heung-min / Captain of the national soccer team> "I'm very close to (Son) Junho, and I'm more worried because there's no answer in the end even if I send a text message…" I hope Junho can get good results as soon as possible and come back to the team."

Asked whether the player under investigation as a suspect is qualified for the national team, the Korea Football Association said it will wait for the final investigation results.

However, if the gap is prolonged regardless of the disposition in the future, it will not be easy to quickly regain his old performance even after he is released from custody.